I haven't been good at keeping my little blog going, but I have two finishes that I took pictures of this morning. I finished this one back in February: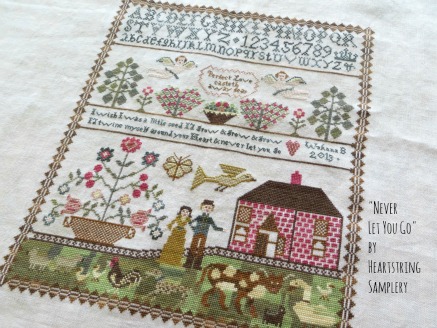 "Never Let You Go"
Heartstring Samplery
Fabric: Picture This Plus Mello 40ct
All called for threads
I love this sampler. I love the verse, I love the animals and I love the greens on the bottom - even thought it took forever to stitch that pasture.
And I finished this birth sampler this morning: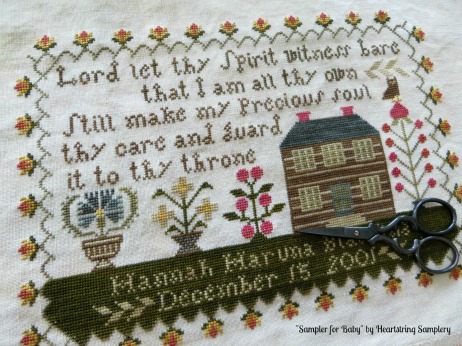 "Sampler for Baby"
Heartstring Samplery
Fabric: Picture This Plus Legacy 40ct
All called for threads
I'm so happy to get this birth sampler done because this is for my now 11 years old daughter. Better late than never, right? Now all my three kids have their own cross stitch birth sampler stitched by me :)
I don't know what I'm going to stitch next. Maybe I will look through my WIP box.
Heartstring Samplery
is one of my favorite designers at the monent. I love just about everything she comes up with!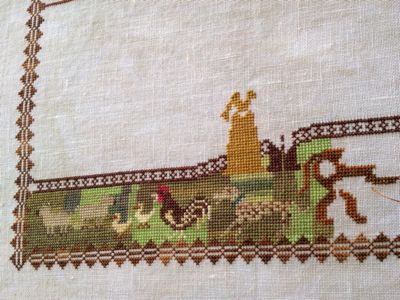 * Oops! I had the name of the chart wrong - it's "never let YOU go", not "never let me go".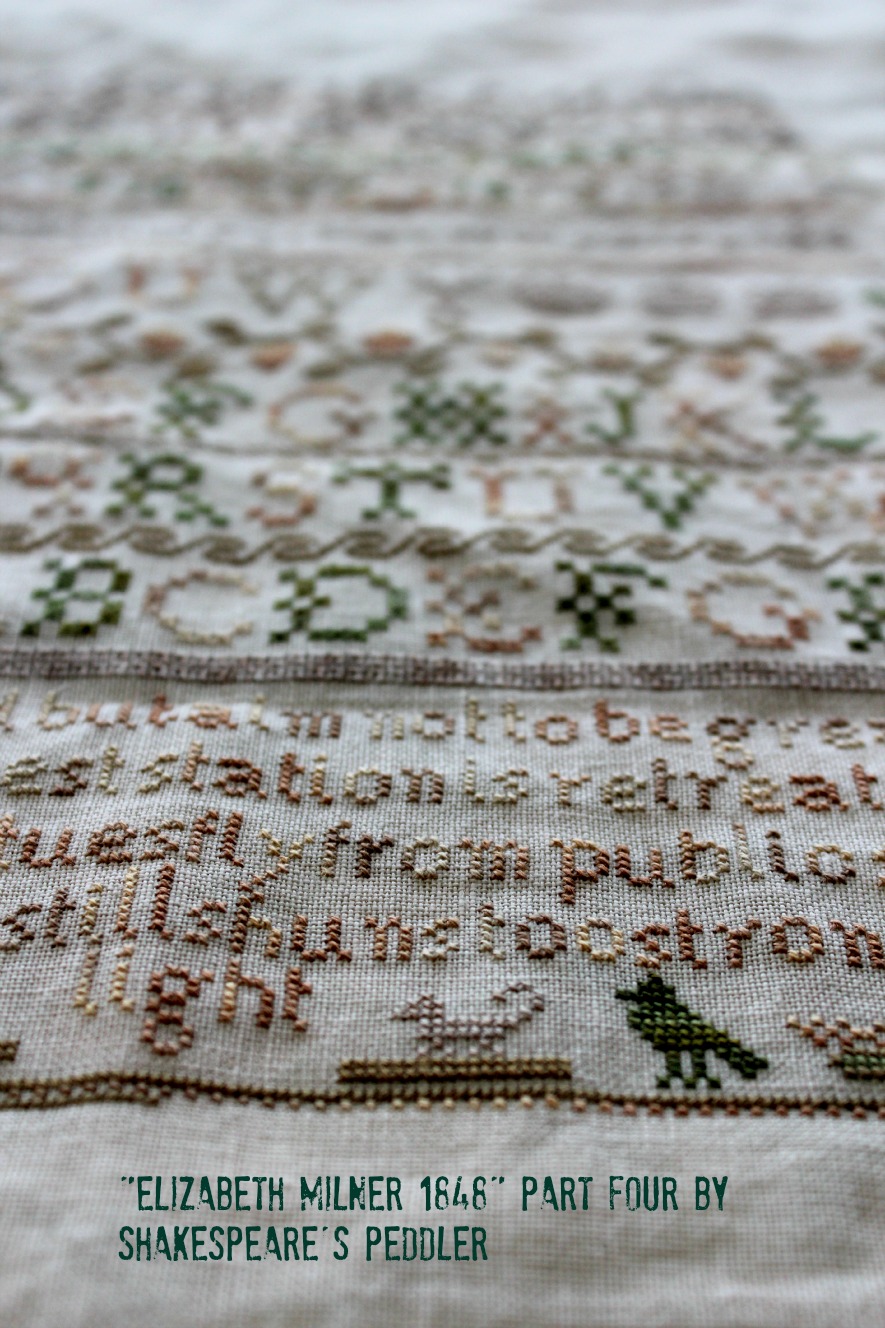 The eyelet stitch band took me forever and ever... I was so happy to get to the alphabets.
I can't believe it's almost October. September flew by - we're keeping busy with kids' football, soccer, ice hockey, softball games and cross country meets and music rehearsals and trying to squeeze some studying time in there! My stitching time is pretty limited, but, hopefully I can finish this one soon and still have some time left to stitch something Halloween before Halloween 2012 is over. A girl can dream :)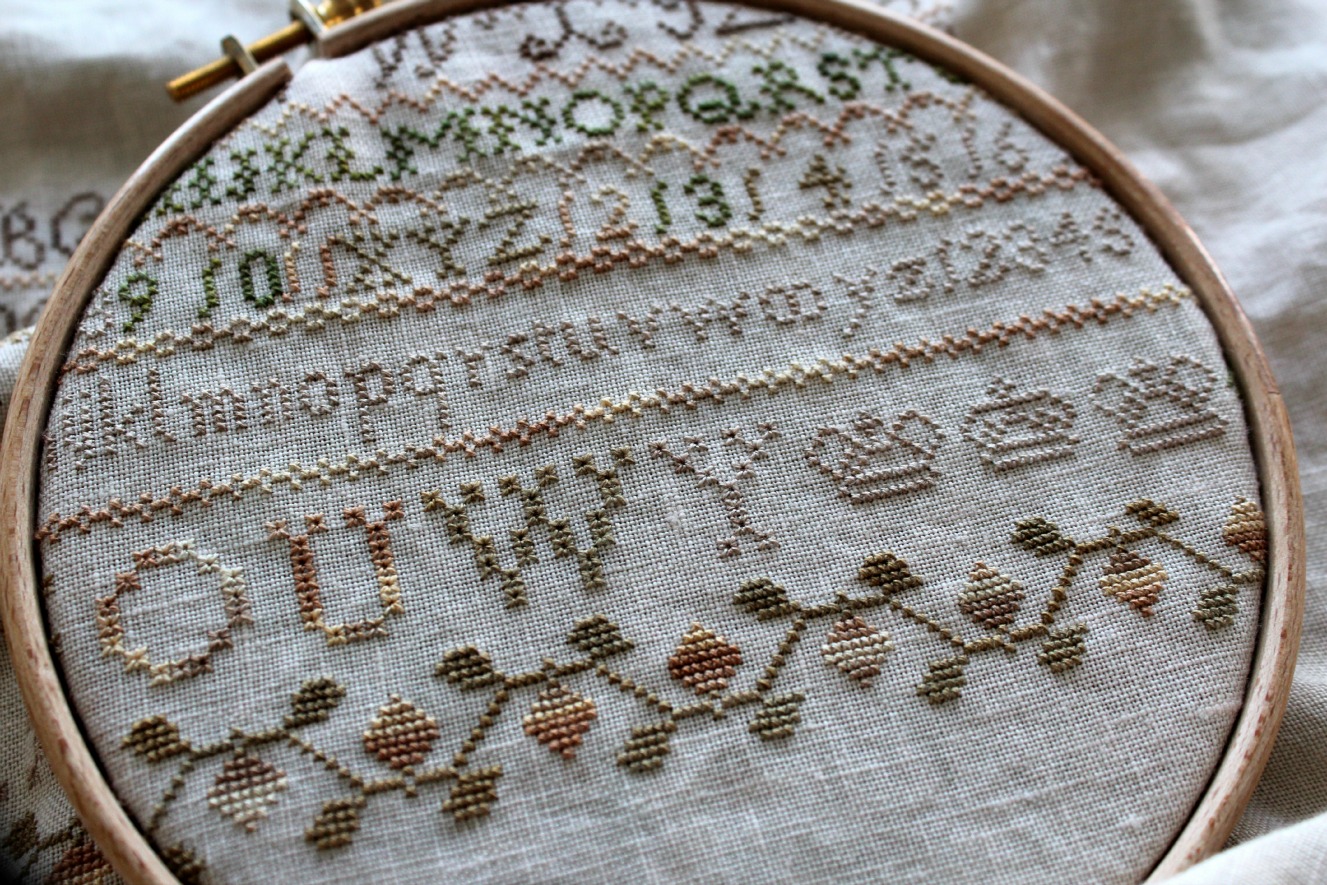 Elizabeth Milner 1848
Shakespeare's Peddler
I finished Part 2 of Elizabeth Milner yesterday. I'm not very fond of Algerian Eye stitches - it's hard for me to make them look even and balanced. I'm not even sure if I'm stitching it right... I should probably slow down and take time to do each one right, but I'm so impatient!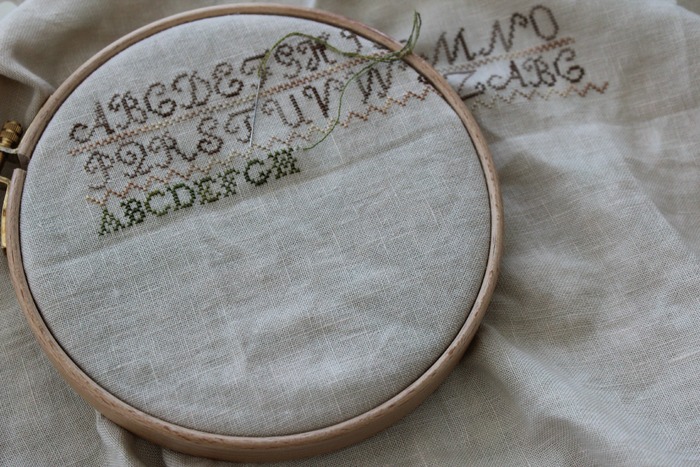 "Elizabeth Milner 1848"
Shakespeare's Peddler
All called for threads and fabric
I started Elizabeth Milner two days ago. I'm loving Gloriana Silks.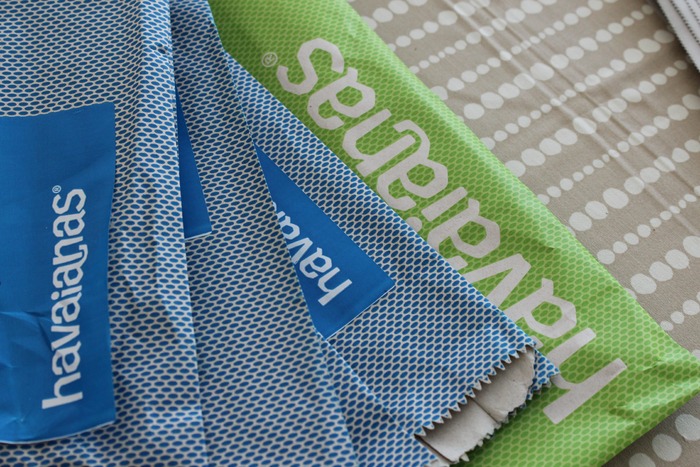 My husband came home from Brazil yesterday morning. It's always fun to find out what local goodies he got for us :)
Everyone went to school today! My Baby Girl was fever free for 24 hours and Middle School Boy was walking fine yesterday. There are only 9 more school days left until this school year is over - it feels like it just started, like, last month. Sigh.
I'm enjoying stitching this one.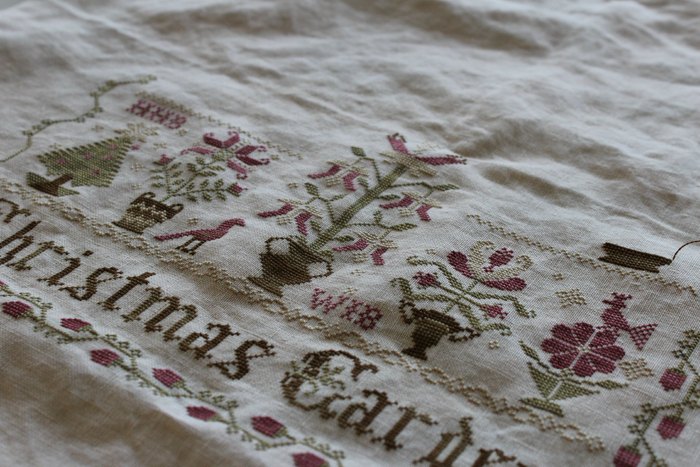 Baby Girl had this shirt for a couple of years now, and I think this may be her last year to keep it. It's getting quite worn. It's one of her favorite shirts and I think her brothers like it too - they're quite proud of their hockey playing tough little sister :)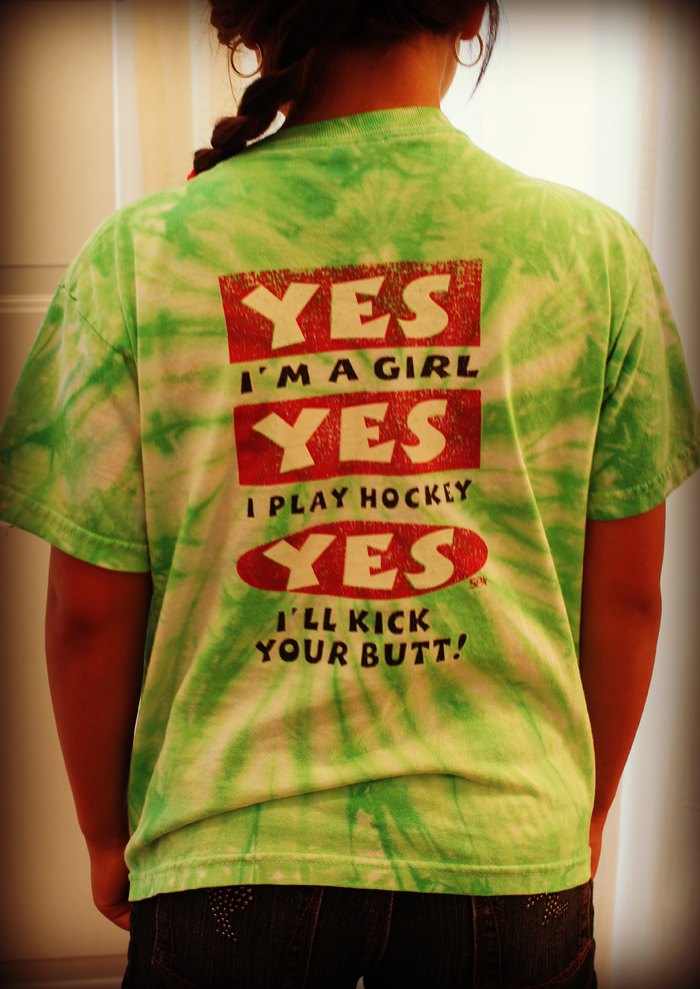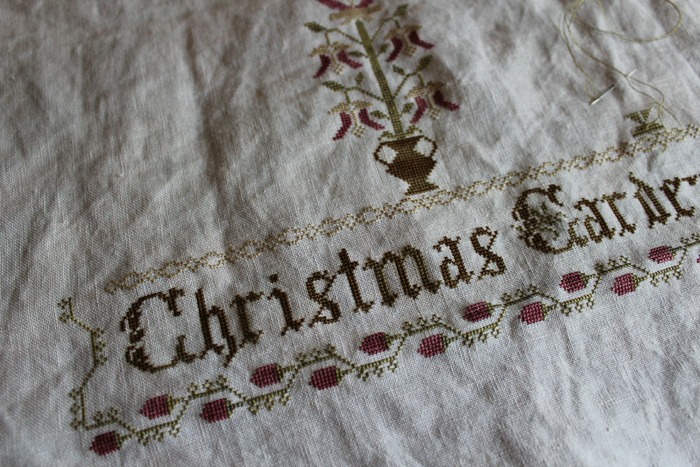 Started on a BBD Christmas sampler. I'm using
Theresa
's silk thread conversion kit except for the green. I haven't made much progress on it because I've been trying to stitch and watch hockey playoff games on TV at the same time. There is nothing like playoff hockey! Why can't they play like that all season long?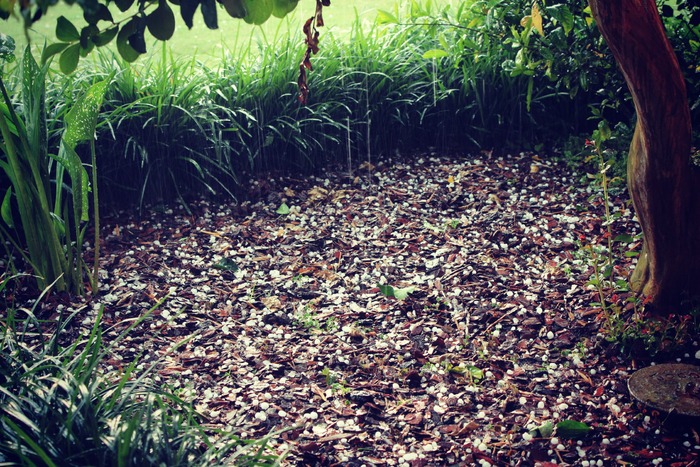 We had a hail storm go through our neighborhood last weekend.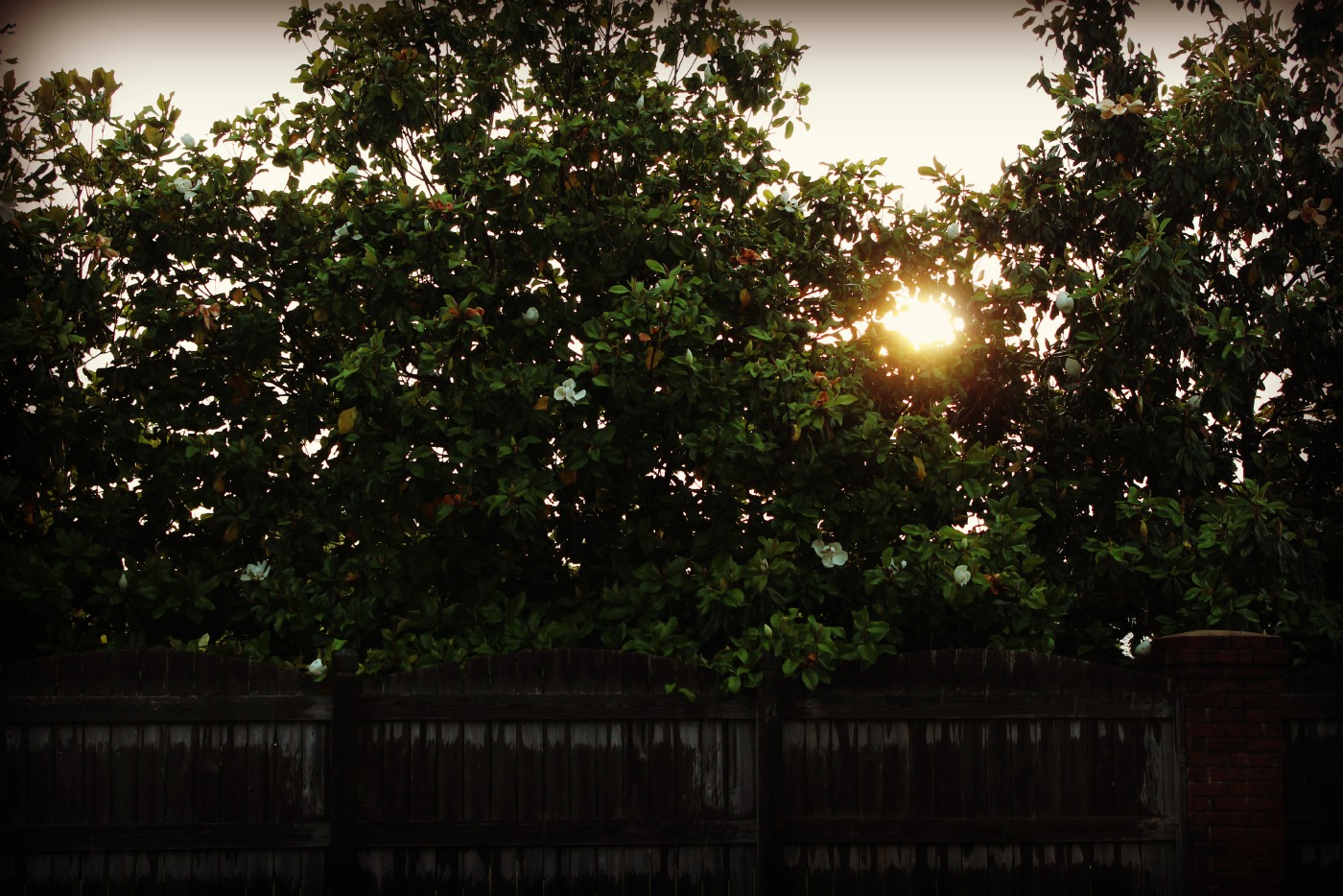 It didn't last long, though, probably about 5 minutes or so. The sun came out again. I went out and picked up some hails and saved them in the freezer for the boys who were watching the Avengers at the theater then. They had no idea the storm went through while they were watching the movie.
Hope you have a great week!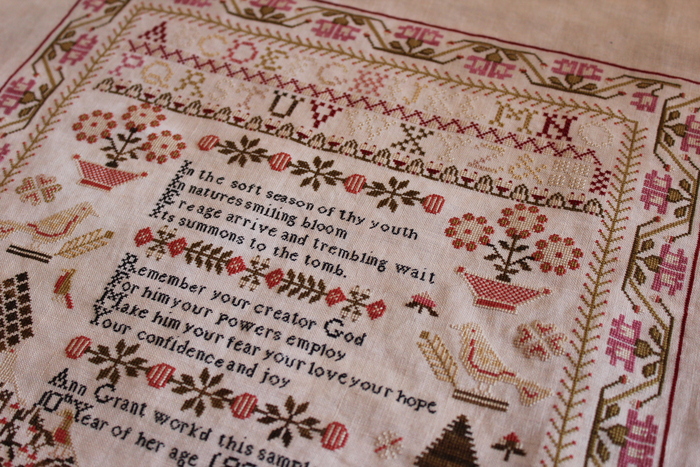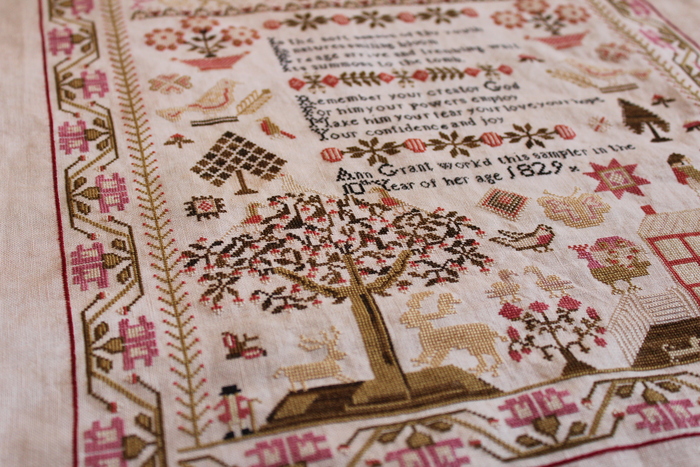 "Ann Grant 1829"
Chart by Shakespeare's Peddler
All called for threads on Lakeside Linen's Lentil 40ct